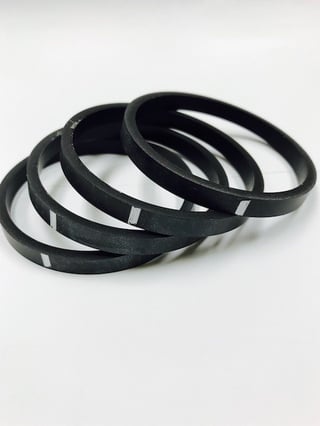 Grand River Rubber & Plastics strives to manufacture products that meet our customers' requirements and exceeds their expectations. Responsiveness, quality products, competitive pricing and on time delivery are just part of our commitment. We also offer a variety of value add services which are outlined below.
Direct Access to Engineers
Our prospects and clients can speak directly to our engineering staff about any questions surrounding new projects and or about potential changes to existing projects. For example, if you are considering replacing an O-ring with a lathe cut gasket in your application, you can call one of our engineers directly to discuss it.
Packaging
We offer many different packaging options including core, stacked, and bulk packaging. Our team is happy to assist you in choosing the best packaging option for your project.
Bagging and Labeling
Grand River offers many bagging and labeling options. Parts can be bagged and tagged into specific quantities and labeled with P/N or any required information. Whether you want 5 parts per bag or 100, we can accommodate your request. We also have the ability to direct print labels or if you'd rather, send us labels to use during the bagging process.
Material Review
Stumped figuring out if a material will work best for your application? Send the material to Grand River and our team will analyze it. If our team doesn't think it is suitable for your application, we will provide you with a more favorable alternative. Check out our recent blog "How to Choose Lathe Cut Gasket Materials for Various" to learn more about the materials we recommend for specific applications.
Print Analysis
Grand River offers a free print analysis. Simply send us your print and we'll give you our recommendations for the most cost-effective and highest quality seals. Interested? Submit your print here.
Part Printing and Striping
Part printing and striping is a very popular service for our clients. Strategically placed markings can be added to parts to ensure proper alignment and installation. Color coding our parts helps reduce errors in your application by clearly differentiating a part from similar looking parts.
Lubricant Coatings and Special Performance Coatings
We offer various coatings to suit a multitude of needs including Talc and Silicon. We also offer Special Performance Coatings ( PTFE) which is not only great for identification (since it's offered in different colors) but also is a great low friction/non-stick coating.
Grand River offers great flexibility when it comes to value add services. Don't see a service listed? Please ask and we will be happy to accommodate your request if possible.