We are proud to announce that after an external audit, the Quality Management System of Grand River Rubber and Plastics has been assessed and approved by Intertek to the following quality management system standard and requirements: ISO 9001:2015.
This 3-year recertification, completed in December 2022, certifies that our management system is applicable to manufacture dense rubber washers and gaskets for the appliance, automotive aftermarket, container, coupling, electrical, filter, marine and other miscellaneous industries.
ISO 9001 is the globally recognized standard for quality management that ensures the quality of services and products of an organization. ISO certification offers our customers the needed assurance that they will receive quality parts and consistent service.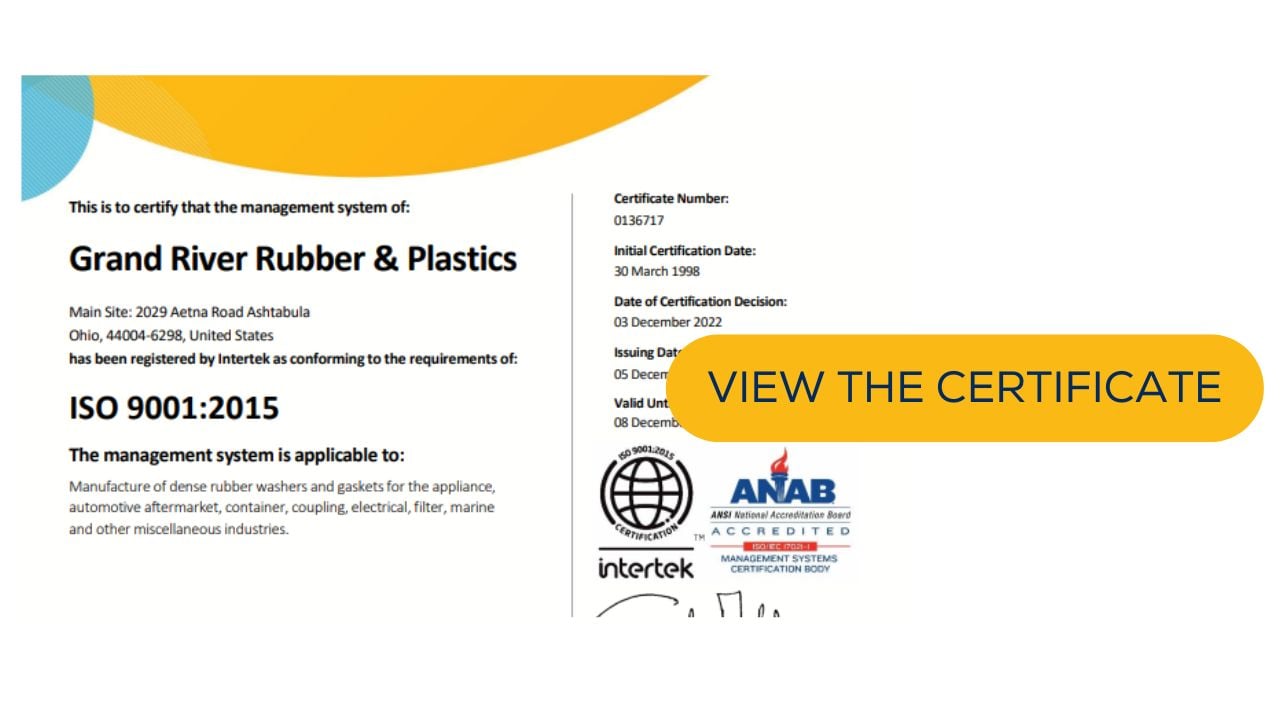 Since the 90's, Grand River Rubber and Plastics has partnered with SAI Global, now owned by Intertek, an accredited assurance, inspection, product testing and certification body, to achieve certification.
As part of our commitment to quality assurance, Grand River Rubber and Plastics undergoes two Surveillance Audits per year, and the ISO 9001:2015 re-certification audit is completed by Intertek every three years. We also conduct quarterly Internal Audits performed by the office and staff personnel to ensure ISO compliance.
Since certification, Grand River Rubber and Plastics has seen great benefits which have profoundly impacted both company culture and the bottom line. Over the years, the ISO 9001:2015 certification has resulted in improved customer satisfaction and loyalty, happier and more competent employees, better quality products and services, reduced overall risks, as well as increased efficiency, fewer mistakes, and less wasted time.
"Our ISO re-certification demonstrates our commitment to quality which is a non-negotiable requirement from our customer base," said Donny Chaplin, president of Grand River Rubber and Plastics. "All our employees diligently work daily to achieve high levels of quality, which has led to great success plantwide."