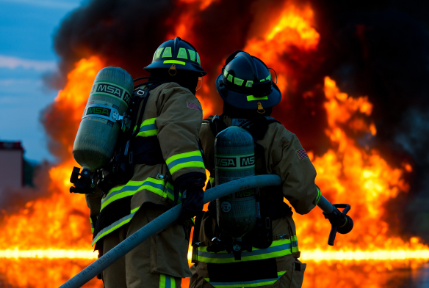 Maintaining High Standards and Reliability Under Pressure
Red Head Brass, LLC is a manufacturer of high-quality firefighting equipment in Shreve, OH. Founded in 1972, the company is a leader in its industry, supplying the emergency response, industrial, and oil and gas sectors with the necessary tools to push back and extinguish fires.
Fires Don't Stop for Pandemics
When COVID-19 shutdowns were happening across the nation in every industry, Grand River Rubber kept its doors open to produce parts for vital applications like firefighting, including supplying Red Head Brass with a reliable source of gaskets.
And while the pandemic put the brakes on many facets of life, it didn't slow the spread of wildfires in the U.S.
According to the National Interagency Fire Center, more than 1.2 million acres of the US burned due to wildfires from January through mid-May of 2022, roughly 500,000 acres more than the 10-year average. With drought conditions in most fire-prone states, NIFC projected fire activity would increase throughout the season.
Gaskets Vital in Hose and Nozzle Assemblies
Red Head Brass has relied on Grand River Rubber to supply them with lathe-cut gaskets of varying types and sizes for their parts for more than two decades. Some of those parts, like couplers and adapters, go into assemblies that are used in hoses designed to fight wild and structural fires.
Specifically, the gaskets provide a seal between hose couplings or adapters and high pressure/high volume firefighting water pumps and hydrants. If a gasket fails, it can result in something as simple as loss of pressure and leaking or a more serious blow-out that can damage the hose and cause serious injury to the operator and bystanders.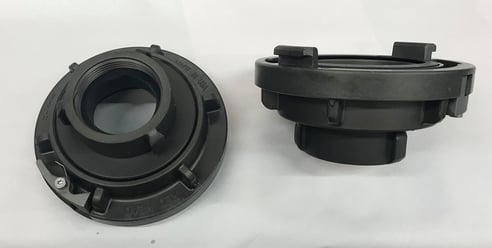 Figure 1 (above) is often used as a hydrant adapter. Figure 1 shows a female thread and gasket that seals on the face of the male threaded end of a hose. The right side, showing the large product with "lugs" facing up has a face seal. This is a high-pressure application and connects two of these adapters by rotating and locking the "lugs" together. The two gaskets are in contact with one another and seal the connection. These connections are found on many different applications like hydrants and fire trucks as they are quick connect and seal tightly.
Materials that Meet Standards and Work in Extreme Conditions
To ensure a good seal between hose and water source, a high-quality seal is needed to handle the pressure produced by water pumps and hydrants. The seal must also stand up to exposure to water (a solvent) and to other chemicals, at a range of temperatures.
"We use EPDM, Buna, SBR, and also have ASTM specified material required," said Bill Irwin, Production Manager at Red Head Brass, describing materials used in their application.
"Our gaskets need to be durable, wear-resistant, chemical resistant, and are often governed by NFPA (National Fire Protection Association) standards."
Manufacturers in heavily-regulated industries rely on Grand River because its employees understand industry specifications and the importance of producing gaskets that meet customer requirements. And, because Grand River is an ISO 9001-2015 certified manufacturer, Red Head Brass knows it can expect parts of uniform quality and reliability.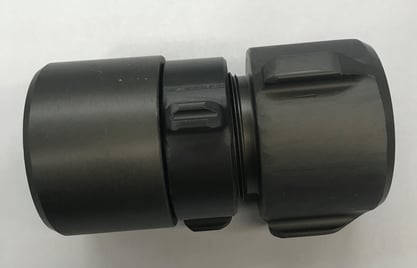 Figure 2 (above) shows an assembled fire hose coupling. This coupling is attached to a hose using a copper ring expanded from the inside of the hose, thus locking the hose to the coupling.
Working with Grand River Rubber & Plastics
"Our records indicate the first purchase from Grand River Rubber was in June of 2001," said Irwin.
Asked if he's considered other suppliers, Bill indicated that lead times and pricing from other gasket manufacturers were just not acceptable. And although there have been some rough patches thanks to pandemic-inflicted supply chain issues, Grand River Rubber and Red Head Brass worked together during that time to improve communication and strengthen their relationship.
Kellie West, Inside/Outside Sales Representative at Grand River Rubber, knows how important delivery is to customers and appreciates the feedback from Red Head Brass.
"It helps to understand where the pain points are so that we can dig into weekly usage, drop-dead dates, and prioritize orders to ensure customers are getting the parts they need as quickly as possible," West said.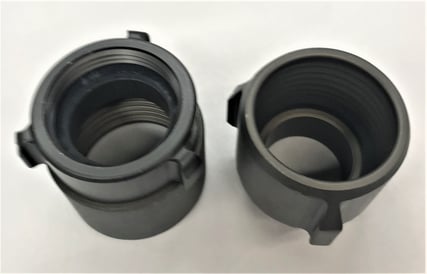 Figure 3 (above) shows the same coupling as in Figure 1, this time showing the two ends that would be attached to a hose. The picture on the left is a face gasket sealing the coupling when two hoses are connected together. The picture on the right has a gasket at the bottom of the large "bowl". This seals the hose to the coupling when the ring is expanded, as described above.
Red Head Brass: Made in the USA for More than 50 Years
Red Head Brass began with the innovative idea to replace brass with aluminum as the raw material for manufacturing couplings and adapters.
Read Head Brass's history of innovation includes the development of aluminum Storz products, as well as the Hy-D mass decontamination nozzle, which holds two patents.
Crafting aluminum components with higher strength, lower weight, and lower cost, Red Head Brass has always offered parts made in the USA. The company sources raw materials from US suppliers (like Grand River Rubber) and has expanded its manufacturing capabilities in North Central Ohio.
Since its founding, Read Head Brass has expanded into the oil & gas market, offering large-diameter oil and gas components that include couplings, adapters, flanges, mending sleeves, and test caps.
About Grand River Rubber & Plastics
Established in 1976, Grand River Rubber & Plastics is an ISO 9001:2015 standard certified company and has been 100% employee-owned since 2011.