When you start asking questions of Grand River Rubber & Plastics employees, a common theme emerges: there's no such thing as a 'typical' workday, and they seem to like it that way.
Vicki Ellsworth, who has worked in Customer Service since 2017, was a professional travel agent for 25 years before joining the team at Grand River.
On the surface, the two roles sound very different, but actually, they're similar in many ways.
In both jobs, Ellsworth's goal is to help the customer get the best bundle or solution for their budget, in the given time frame.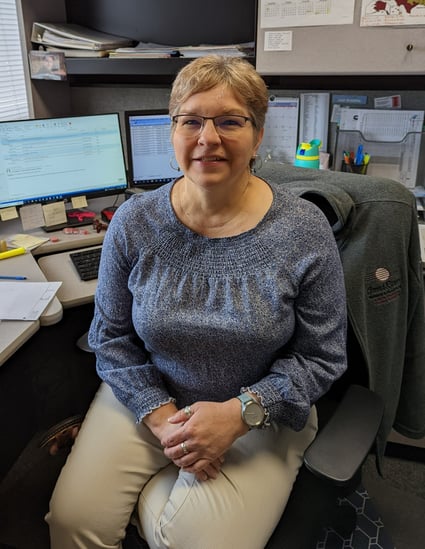 While a "typical" work week might not sound glamorous - there's rarely talk of a Waikiki beach! - Ellsworth says handling orders and answering customers' questions via email and phone is satisfying.
"I'm proud of the efficiency of the Customer Service Department," Ellsworth says. "I've always liked problem solving, and I enjoy working with the Grand River team to help our customers get what they need, when they need it," she says. "Our customers tell us that they appreciate how we work with them to meet their needs."
Learning by Doing: Engineered Rubber and Plastics Parts
Most Customer Service Representatives don't have training in machining or engineering, but the nature of the job requires them to have a working knowledge of all of Grand River's operations. So, while department processes and procedures are well-documented, the best way to learn problem-solving is by doing, Ellsworth says.
The Customer Service Department functions very much as a team, and Ellsworth says she and her co-workers constantly ask each other for help and share information with each other, as it's the best way to keep on top of new things in the company, and in the industry.
"Things change all the time," she says, so learning new things, every day, is part of the job.
Learning the characteristics and limitations of different materials is an ongoing process
Happy at Home and at Work in Northeast Ohio
When she's not at work, Ellsworth, who graduated from St. John High School in Ashtabula, enjoys spending time with family, and Northeast Ohio is a good place to do just that.
"I love a good steak, and seeing a good play or concert," she says, all of which she can enjoy close to home. To follow her favorite football team, however, requires the former travel agent to hit the road: She's a big fan of the Notre Dame Fighting Irish.
We appreciate Vicki for helping Grand River customers every day, and for sharing some of her experience with us here.