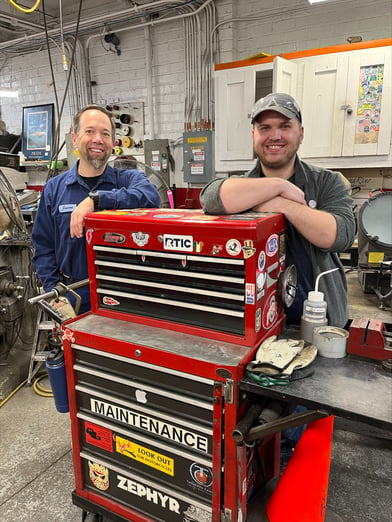 As it turns out, the apple doesn't fall far from the tree for Jason Bernardo Sr. and his son, Jason Bernardo Jr. Jason Sr. joined Grand River Rubber and Plastics in May 1999 and has worked in the maintenance department for over 23 years! In 2018, Jason Jr. followed in his dad's footsteps and joined the Grand River Rubber and Plastics team. Like father, like son; both Jason Sr. and Jr. described their typical work as challenging and ever-changing, but this is the aspect they enjoy most about the job.
We are very happy to have Jason Bernardo Jr. and Sr. on our team and we appreciate their willingness to share some of their experiences here.
Please tell us about your education and career path on your way to Grand River.
Jr.: I have an associate degree with a focus in Web Design and Development. I worked in that field for two years, but I did not like the office environment. I wanted something more active.
Sr.: I graduated from Harbor High School and Ashtabula County Joint Vocational School (ACJVS) in 1992. Then, I did adult education in Industrial Electricity at ACJVS.
What departments have you worked in at Grand River?
Jr.: I've worked in drum and pail fabrication, lathe cut bayonets and lathe cut setup.
Sr.: I worked six months in the cure room and 23 years in maintenance.
What machines and materials have you worked with?
Jr.: I work with bayonet cutters, drum and pail auto separators and grinders.
Sr.: Being in maintenance, I've pretty much worked with/on all the machines.
What do you enjoy most about the work you do?
Jr.: I enjoy the challenge of keeping the lathe cut grinding running smoothly, troubleshooting problems and managing the orderly flow of product to the next step in production.
Sr.: The best part of my job is I'm always doing something different and always being challenged.
What is an area or a specialty of Grand River that you are particularly proud of?
Jr.: It is interesting that GRRP manufactures 95% of the world's flat drive sweeper belts.
Sr.: I'm particularly proud that GRRP has given me the opportunity to further my education and has provided job security for me and my family. GRRP sent me to the ACJVS for a 4-year Industrial Electricity journeyman program. As long as I passed all the classes (24 total) they paid for my tuition 100%. Believe me with a lot of hard work and dedication, not only did I pass all the classes the first time but I also completed the 4 year course in 3 years. I also completed the journeyman electrician program and got my journeyman's card in just 3 years instead of 4.
What have you learned about the industry, and what trends or changes are you following in the industry and/or in the NE Ohio manufacturing scene?
Jr.: This has been my first and only manufacturing job.
Sr.: One thing I have learned about the business at GRRP is all it takes is one phone call from a customer for us to go from slow to really busy and vice versa.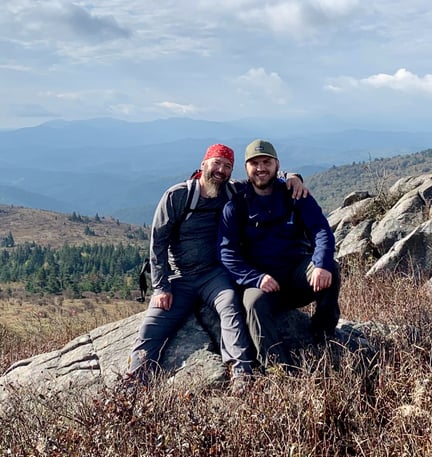 When you're not working, what do you enjoy doing? (Hobbies, sports, volunteering, etc.)
Jr.: I like spending time with family, camping and current events.
Sr.: When I'm not working, I enjoy camping, hiking in the mountains and shooting.
Please share anything you're comfortable with, including where you live (city/area), hang out, or who you hang with (spouse/children/pets).
Jr.: I currently reside in Ashtabula, Ohio.
Sr.: I've lived in Ashtabula my entire life. I have two sons, Joey, 23, and Jason Jr., 26. I'm very fortunate to work with my oldest son Jason Jr. here at GRRP.
We are very fortunate and proud to have Jason Bernardo Jr. and Sr. as part of the Grand River Rubber and Plastics family.