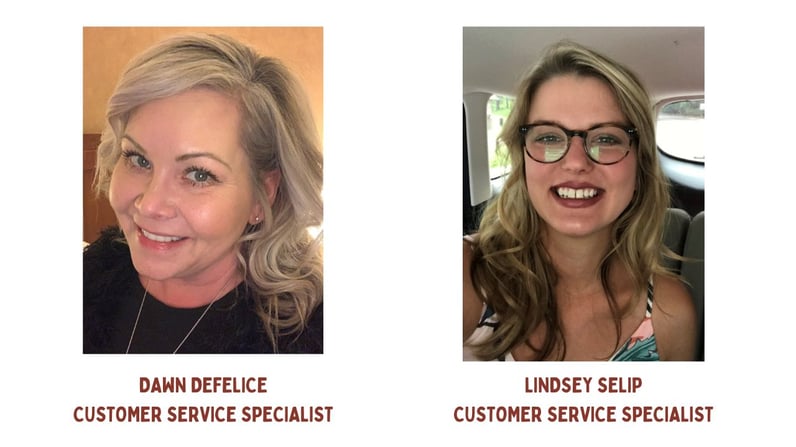 The Customer Service Department at Grand River has the greatest degree of customer interaction. And, customers speak highly of the department, describing interactions as very helpful and employees as very knowledgeable. This has everything to do with the incredible customer service team members, like Dawn DeFelice and Lindsey Selip, who have been part of the Grand River Rubber family since 2011.
We are incredibly lucky to have Dawn and Lindsey on our team and we appreciate their willingness to share more about themselves and the customer service department here.
What do you think sets the customer service department apart? How do you feel the team works together and with individual customers to provide great service?
Dawn: I believe all the ladies on our team have similar work ethics and genuine concern for our customers and their needs. We strive to be as accurate and thorough as possible.
Lindsey: We do our best to build strong relationships with our customers by responding to their needs quickly and always making sure we resolve every issue with understanding. Every customer is unique, and every situation is unique and is handled case by case. We are flexible and adaptive.
How did you learn your way "around" the department?
Dawn: As with anything, consistency is key. Asking questions and being teachable is critical to success in any position you are in.
Lindsey: From training to experience, my knowledge of customer service has developed from years of working with our customers along with many coworkers who have been great examples of great customer service. I've learned a lot over the years - each day is unique and because of that, something new is learned every day.
How do you help others learn their jobs, and learn to meet customer needs?
Dawn: The team works well to inform each other when issues arise and when something new arises or changes are made.
Lindsey: By putting myself in their shoes by working to understand what works and what doesn't.
What would you compare your job to? Are you part traffic cop, part librarian, magician, referee, something else, or all of the above?
Dawn: Often I feel like a detective. Sometimes we are given very little information or conflicting information. Multiple orders may be referenced in one email in which we have to decipher what is being requested from the customer. There are other departments that we need to communicate with in order to advise on our customer's requests as well—lots of "cooks" in the kitchen at times.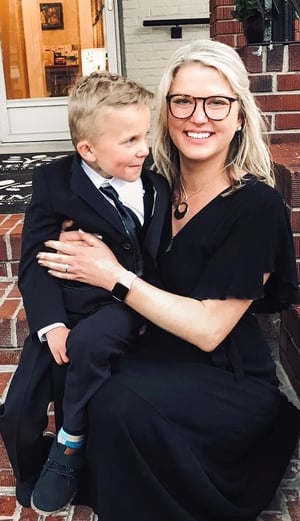 Lindsey and her 7-year-old son.
What do customers tell you about their experiences or interactions with other companies, especially compared with their working relationship with Grand River?
Dawn: I believe we have earned the respect of our customers as we always answer their emails, phone calls or questions. We try to acknowledge their orders within 24 hours and we pride ourselves on our efficiency as well as the relationships we have built over the years with our customers.
Lindsey: Grand River is very responsive and understanding and always makes sure each issue is resolved in a timely manner.
Please tell us about your education and career path on your way to Grand River.
Dawn: I had some college experience and then got married and stayed home with my children. Once they were in high school I decided to go back to work. I took a few excel classes and began working at Grand River. Every day is a new learning experience and I am constantly challenged, which I love.
Lindsey: I grew up in Ashtabula. I attended Miami University for 4 years and I have a Bachelor's in communications. During college breaks, I began as an intern at Grand River in the summer of 2011. I was offered a full-time position after I graduated in May 2013.
What departments have you worked in at Grand River?
Dawn: I've worked as a vacation replacement for Account Receivable and in the Accounts Payable, Payroll, Manufacturing Reporting, and Customer Service departments.
Lindsey: I've worked in customer service and various jobs around the office.
What do you enjoy most about the work you do?
Dawn: The working atmosphere. I enjoy my coworkers and all the supervisors I have reported to as well.
Lindsey: The people I work with. I love the atmosphere. We are like a family and we have lots of laughs at work. Customers are like friends, and I love hearing how long we've been doing business with them.
What is an area or a specialty of Grand River that you are particularly proud of?
Dawn: I'm proud that we are an ESOP company. We are all owners of GRRP and we are all working toward the same goal.
Lindsey: I'm proud of our customer service. Each customer is a special piece of our company. I think we make a good team.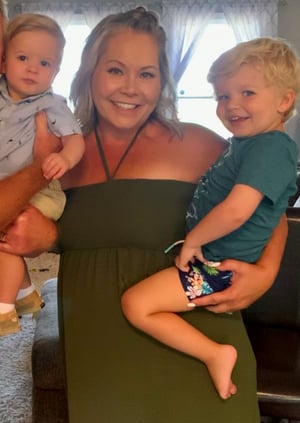 Dawn and her grandsons.
How would you describe a "typical" work week?
Dawn: Every week is truly different than the next. Some weeks/days we are steady with orders and the next week/day we will have an influx of orders and inquiries which makes the day fly by.
Lindsey: My daily tasks are the same, but there are always new things to learn which keeps it interesting.
What have you learned about the industry, and what trends or changes are you following in the industry and/or in the NE Ohio manufacturing scene?
Dawn: Most recently, I have been exposed to drawings for quoting and am still learning the material and our capabilities to produce parts. We are a finely oiled machine and do our best to accommodate our customer's requests. There are a lot of moving parts, and each employee plays a role in making GRRP profitable.
Lindsey: The industry is constantly changing and Grand River Rubber embraces the change and remains committed to maintaining the best quality and service.
When you're not working, what do you enjoy doing?
Dawn: I enjoy event planning, decorating, painting, gardening, golfing, reading, floating in my pool and being outdoors.
Lindsey: I love being outside! Hiking, biking, skiing, and riding our e-bikes on the path.
When you were a kid, what did you want to be "when you grow up"?
Dawn: I wanted to be a teacher.
Lindsey: About 10 different things, LOL.
Please share anything you're comfortable including about where you live (city/area), spouse/children/pets.
Dawn: I live in the same town I grew up in, and I married my childhood crush. We've been married 34 years, and have three daughters, two son-in-laws and two little grandsons who have stolen our hearts. (Do you want to see a picture?)
Lindsey: I'm happily married with two boys, a 6-year-old and a 5-year-old. We all enjoy the outdoors, especially the mountains and beach!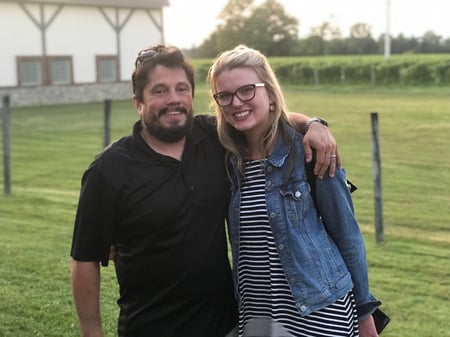 Lindsey and her husband, Josh.
Favorite food, celebrities, sports teams?
Dawn: I love Jesus and seafood, and I have a love/hate relationship with the Browns.
Lindsey: I love cheesecake and BBQ.