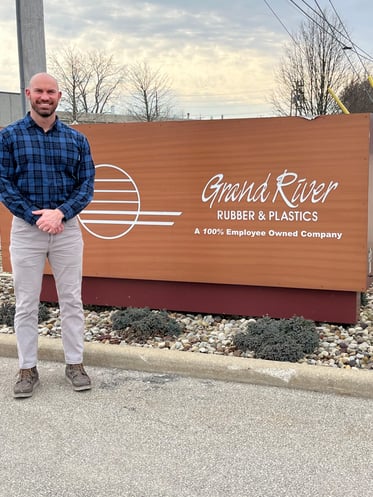 Don Lagoni joined Grand River as a Lathe Cut Supervisor in January of 2022 - but this isn't his first time working at the company.
Lagoni holds a Master's of Education from John Carroll University. Just before graduating in 2012, he accepted a job working for Freeway Corporation in Cleveland. While that may sound strange for an Education major, Lagoni says it was a great decision.
"I accepted the Freeway job offer because my father was the Vice President there, and I felt like their work culture and the nature of the work that I would be doing suited me well," Lagoni said. "I have been in the manufacturing industry ever since, and have never looked back."
Lagoni was thrilled to accept a position with Grand River Rubber, because it allowed him to be closer to home, in Ashtabula. And, he said, "Since I had worked here during my summer vacations during college, I was somewhat familiar with the company, and with some of the people."
We asked him to tell us how he's finding Grand River at this point in his career. Here's what he said.
How Would You Describe Your Job To Someone?
I help to manage the day-to-day production activities and help to achieve the goals of our Lathe Cut department. Most of what I do entails scheduling jobs for production based on customer demand, scheduling personnel, resolving quality issues, and coordinating with other departments to ensure that we are as efficient as possible.
We are constantly working to bring about the greatest amount of output through the best use of talent and resources.
What Do You Enjoy Most About the Work You Do?
Definitely the company culture. The people here have been great to me ever since I was hired. Everyone has been very welcoming and eager to help me grow in my position here. I've also noticed that there is a real sense of community among management and the employees.
Everyone seems to be working towards the same goal, which is important to the continued success of the company.
How Would You Describe a "Typical" Work Week? Who Do You Work Most Closely with?
No two days are exactly the same! I try to keep my days/weeks as structured as possible, because that is how I work best. However, each day can present its own set of challenges. Some examples include expediting an important job for a customer, helping to resolve a maintenance or quality issue, or managing personnel during Covid-19.
I work most closely with Production Manager Bobby Nelson and Lead Supervisor Tim Cusano, which has been great. Both of those guys have a lot of experience and they've been very helpful in my training process. I couldn't have asked for two better mentors.
What Have You Learned About The Industry, And What Trends Or Changes Are You Following In The Industry?
I'm learning how challenging it can be to successfully manage a business during this extraordinary time in history.
From the Covid-19 pandemic and supply chain breakdowns to finding employees with the right mindset to help your company grow into the future, I'm learning how adaptable, resilient, and creative a company must be in order to not just survive, but continue to succeed during such a unique time.
What Do You Enjoy Doing When You're Not at Work?
I enjoy lifting weights, which I do 6 days a week. I also enjoy reading, watching movies and documentaries, going to museums, and watching football and boxing. My favorite movie of the year (so far) is House of Gucci. Lady Gaga and Jared Leto gave memorable performances!
When You Were a Kid, What Did You Want to Be "When You Grow Up?"
I wanted to be a professional football player for the Pittsburgh Steelers.
Wait, what? For the Steelers?!
My father's family is from Pittsburgh, so I grew up in a Steelers household, thank God. Had I grown up in a Cleveland Browns family, I probably wouldn't watch pro football.
Do You Have a Favorite Food or Favorite Restaurant?
I love Italian food! Alessandro's in Ashtabula has some of the very best Italian food you can find anywhere. I also enjoy Maxi's and Etna in Cleveland's Little Italy.
Thanks, Don!