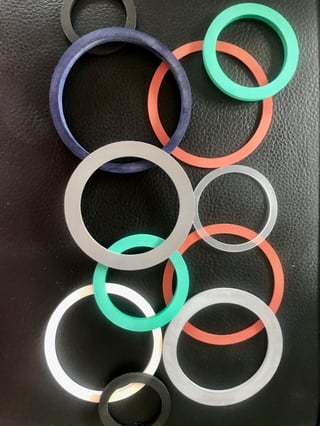 A common misunderstanding we hear from our customers is asking for O-rings when they really require lathe cut gaskets. Many times, our manufacturing clients believe that O-rings and lathe cut gaskets are the same. Below, learn the main differences between lathe cut gaskets and O-rings and discover why lathe cut gaskets are favorable in many applications.
What is a lathe cut gasket?
Lathe cut gaskets are a high quality and precise solution to custom size or OEM specifications. Lathe cut gaskets are first created from a tube of rubber. A mandrel is inserted into the tube and lathe cut for the finished dimensions. The mandrel is turned and cut on the lathe. Lathe cut gaskets can be made out of any polymer group and are used as an alternative to O-rings in many applications.
What is an O-Ring?
O-rings are technically considered a gasket, however, the material it is made from differs from most gaskets. The O-ring's cross section can be round or square and is commonly made from neoprene, although O-rings can be made from rubber or other synthetics.
When to Choose a Lathe Cut Gasket
Lathe cut gaskets are the optimal choice for static applications, meaning applications including immovable parts. It's rectangular or square cross section offers a larger sealing surface. It also provides increased resistance to compression when compared to O-rings. Lathe cut gaskets are ideal when beveled edge gaskets or tight tolerance gaskets are required. Also, the lathe cutting process is optimal when large outside dimension (OD) gaskets or small ID gaskets are necessary because of availability and cost.
Seal failure is usually attributed to the seal's inability to maintain either the dimensional stability or design shape. Lathe cut seals are able to keep their design shape under significant stress and therefore have a longer sealing life.
Generally speaking, lathe cut gaskets are a less expensive replacement for an O-ring or other squeeze type molded seals and are utilized in virtually every industry.
Static applications where a lathe cut gaskets are ideal include but are not limited to: bumper, sleeves, dampeners, static and radial seals, container seals, roller sleeves, vacuum sweeper belts, appliance applications, coupling gaskets, food grade gaskets, filter gaskets, wiper seals, and more.
Lathe cut manufacturers can extrude sizes from .250" to 7.75" with little or no tooling costs. At Grand River Rubber, everything we supply is custom made to conform to established requirements and understood expectations.
When to Choose an O-ring
O-rings are typically more advantageous in dynamic applications, meaning applications where there is motion between two parts. O-rings in dynamic applications plug the surface between moving and stationary objects that are assembled together. Common dynamic applications using O-rings include piston rings and rotary shafts.
O-Ring manufacturers usually have a mold for your typical .500-3.00" ID and can easily manufacturer high volumes of O-Rings. Now, when a larger ID is required, manufacturers may not have a mold for that size and would have to develop one, which can be costly.
Dynamic applications where O-rings are ideal include: pump seals, v-cup packaging, rotary seals, oil sealing, radial lip, hydraulic and pneumatic applications, shims/insulators, bearing isolation, etc.
Need assistance with your application? Our engineers can develop an optimized solution that balances performance and economy. With production approaching 1.5 million pieces per day, we have the experience to get the job done right and the capacity to deliver on time.