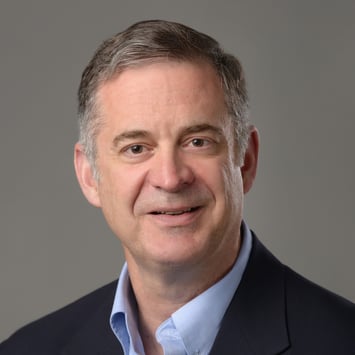 Grand River Rubber & Plastics is excited to announce Keith Wyatt as our new Chief Operating Officer. In his new role, Wyatt is responsible for Grand River Rubber & Plastics operations throughout its three product lines: lathe cut gaskets, vacuum sweeper belts, and drum and pail. Wyatt will drive alignment across these product lines to ensure operational excellence as the company expands its manufacturing footprint both domestically and internationally. Below, learn more about Wyatt's manufacturing background and his perspective on the future of Grand River Rubber & Plastics.
Wyatt began his career in the consulting industry, where he helped 150 manufacturers lead installations and upgrades. Throughout his consulting career, Wyatt was exposed to the latest manufacturing technology. After more than a decade in manufacturing consulting, Wyatt took his manufacturing expertise to Jasper Rubber Products, an ISO/TS/QS manufacturer of industrial rubber and plastics products, where he served as Executive Vice President, Operations & Information Technology for 9 years.
During his time at Jasper, Wyatt spearheaded an initiative to implement new mixing technology. The technology Wyatt and his team developed increased quality and productivity in the rubber molded products division. In addition to his efforts mixing operations, he also made significant strides in the company's product development expansion.
"One of my biggest initiative at Jasper was establishing a joint venture start-up and guided them through getting a patent for the product and launching the new product,'' says Wyatt.
After working at Jasper Products, Wyatt took his talents to Enviroplas, Inc., an ISO manufacturer of custom engineering plastic resins, where he served as both Vice President of Global Supply Chain and Chief Operations Officer.
"I helped EnviroPlas diversify and expand in the markets they serve including automotive, electrical, lawn and garden, dental, and medical. Similarly to Grand River, everything EnviroPlas manufacturers are custom formulated to meet the customer's needs. I had to learn about industry regulations such as NSF 61 and FDA compliance, which will be instrumental in my new role at Grand River."
Wyatt has a proven record of driving innovation while enhancing profitability and efficiency. His skillset and extensive knowledge of the rubber products market will be indispensable as Grand River Rubber & Plastics works to improve its operations and deliver long-term value for its customers.
"Grand River has been highly successful in the markets it serves. My entire career thus far has been focused on growth and innovation. I look forward to enhancing the company's current operations."
Wyatt's goal for the next year is to focus on increasing Grand River's lathe cut gasket operations. He is working closely with Donald Chaplin, President and CEO of Grand River Rubber & Plastics, to identify opportunities for expansion.
"Grand River is extremely well-positioned, both from a product and team perspective, and I'm eager to help the company take some pivotal next steps. I'm excited to be working with Grand River's amazing team of problem solvers, innovators, and engineers to bring our superior quality products into new markets."
Wyatt is an avid learner both inside and outside the office. His latest business book recommendation is Deep Work by Cal Newport. When he's not working, he enjoys traveling with his wife of 34 years, Libby. Although these days, Wyatt is trading in his exotic location trips for visits to Bethesda, Maryland and Indianapolis, Indiana, where his adult children live.